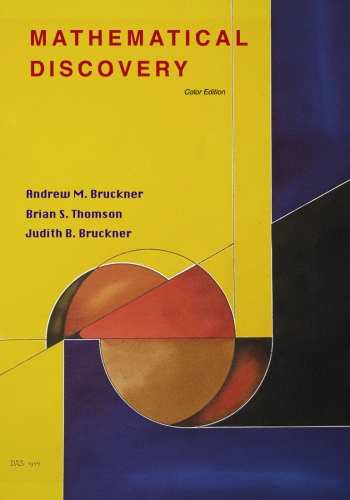 This is a book about mathematics appreciation via discovery, rather than about practical mathematics. It considers several problems that don't appear to be amenable to ordinary arithmetic, algebraic or geometric techniques. It then guides the reader through the process of discovering the solution to each problem, using creative methods and simple techniques that arise naturally. It also indicates how each solution leads to new questions, provides a bit of history of the problem, and discusses a few related problems of current interest that have not yet been solved.
" I often wondered what math was all about -
whether there was more math to be discovered -
and if so, how can mathematicians discover more math -
Even with my minimal math background, I found my curiosity and my participation in the discovery process enough for me to get a good sense of the answers to my questions - and an appreciation of the beauty of math"
-- anonymous student evaluation of a course based on the material in this book.
The book contains numerous examples, illustrations, problems and projects that advance the discovery process. There is an extensive section at the end of each chapter that gives answers to the problems posed in the chapter, as well as an additional section that provides supplementary material.
Each topic is divided into many short sections. The
Table of Contents
shows the topics covered, and lists the titles of the sections and subsections. More about the goals and use of the book can be found in the
Preface
.
The book comes in two versions - one with more than one hundred full color illustrations, and a less expensive edition with black and white illustrations.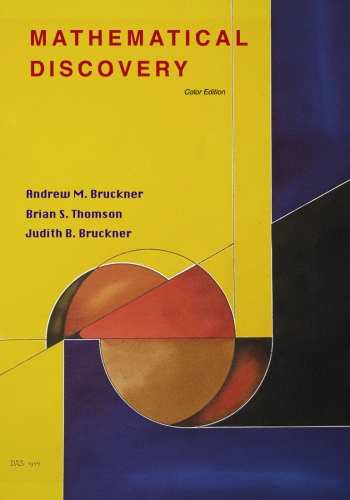 Mathematical Discovery
COLOR EDITION

by Andrew M. Bruckner, Brian S. Thomson, Judith B. Bruckner
266 pages, 4 Chapters, 2 Appendices, Bibliography and Index
ISBN-10: 1463730578
ISBN-13: 978-1463730574 (CreateSpace-Assigned)
BISAC: Mathematics/ General
List Price: $39.39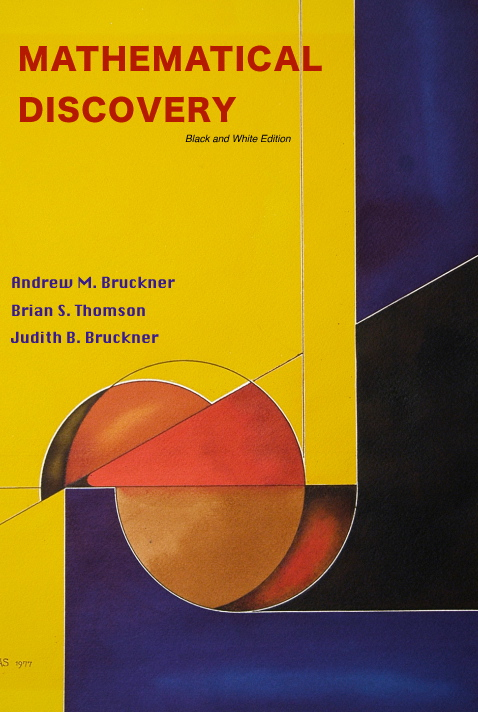 Mathematical Discovery
Black/White Edition

by Andrew M. Bruckner, Brian S. Thomson, Judith B. Bruckner


266 pages, 4 Chapters, 2 Appendices, Bibliography and Index
ISBN-10: 1453892923

ISBN-13: 978-1453892923(CreateSpace-Assigned)
BISAC: Mathematics/ General